Needham Broughton High School


Class Of 1961
In Memory
Linda Ashburn (Poole)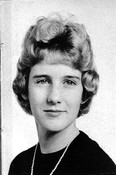 Linda A. Poole
November 15, 1942 - October 17, 2011
Raleigh
Linda A. Poole, 68, passed away peacefully into the presence of her Lord, on October 17, 2011, surrounded by her family. She was born in Winston Salem, NC on November 15, 1942, to her parents Charles W. Ashburn and Ethel A Keyes.
Linda was a longtime member of St. John's Baptist Church in Raleigh. She was devoted to her church, served as a deacon, and was involved in many activities where she utilized her gifts and abilities to share the love of God. Linda was employed for over 44 years at Progress Energy, where she was also a member of the Pioneer Club. She enjoyed dancing, collecting Elvis memorabilia, and loved the many opportunities to mentor young people and work with mission projects at her church. Above all, she loved spending time with her family and friends, especially her precious grandchildren. She will be missed.
She is lovingly remembered by her husband of 50 years, Billy A. Poole; 2 daughters, Brenda P. Ballard and Kelly M. Poole, and her 2 grandchildren, Shelby and Aidan. She will also be missed by her step father, Robert Keyes, her sister Phyllis Stanford and her husband T.C., and her niece and nephews. Linda was predeceased by her parents, and her sister Patricia Perry.
The funeral service will be held at 3:00 pm, on Thursday October 20th, at St. John's Baptist Church, 1615A Oberlin Road, Raleigh, NC 27608. The family will receive friends prior to the service from 1:00-3:00 pm, in the Fellowship Hall. Interment will be held at Raleigh Memorial Park.
Memorial donations can be made to St. John's Baptist Church, "Youth Missions Fund", in memory of Linda. Condolences and special memories can be shared at www.MitchellatRMP.com. Arrangements by Mitchell Funeral Home.