Needham Broughton High School


Class Of 1961
In Memory
Joseph (Chris) Dunlap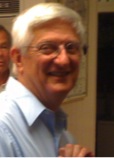 Durham, NC: Joseph Christopher Dunlap, 71, died Thursday, August 28, 2014, at Duke University Medical Center. He was born June 21, 1943, the son of the late James M. and Verdie Wilson Dunlap. He attended Hayes Barton United Methodist Church and graduated from Needham B. Broughton High School in 1961 and from Duke University in 1965. He also earned his Masters in accounting from the University of North Carolina at Chapel Hill. Chris served his country during the Vietnam era in the US Navy on the USS Little Rock. Following his military service, he initially worked in banking, but his long-term career was in federal service. Chris retired in January of 2014 after 43 years with the US Environmental Protection Agency where he served as a Supervisory Auditor.
Chris was known as a loving, generous person that was full of life and was considered to be a southern gentleman by all who knew him. Chris was a man of courage and integrity who met any situation with his "thumbs up" approach. He was an avid and excellent bridge player. After his extended career and traveling the world, Chris will be laid to rest with his family in Greene County.
Funeral services will be held at 1:00 PM Monday, September 1, 2014, at the Hull Road Free Will Baptist Church in Arba, NC with Reverend Leon Grubbs officiating. Interment will follow in the church cemetery. Chris is survived by his cousins, nieces, nephews and many friends. The family will receive friends immediately following the service at the graveside. In addition to his parents, Chris was preceded in death by a brother, Eddie Sugg, and his special friend, Pauletta Allen King.
In lieu of flowers, memorials may be made to the Hull Road Original Free Will Baptist Church, 3984 Hull Road, Snow Hill NC 28580. Additionally, online condolences may be made at www.taylor-tyson.com.
Family and friends are most grateful to the Duke Lung Transplant Team as well as other physicians and staff at the Duke Clinic, Duke Medicine Pavilion and Duke Main Hospital who so carefully and caringly attended to Chris during the last months of his life. They also extend a special thanks to the Duke Palliative and Duke Decedent personnel.